Introduction
The Galaxy Fold is Samsung's trailblazing effort into foldable-screen smartphones. Announced with the S10 family, it all but made them look ordinary and old right there at the launch event. A couple of months later we know the S10s are mighty good smartphones that we'd buy with our own money, but it's still the Fold that excites us in ways a regular slab of a phone just can't.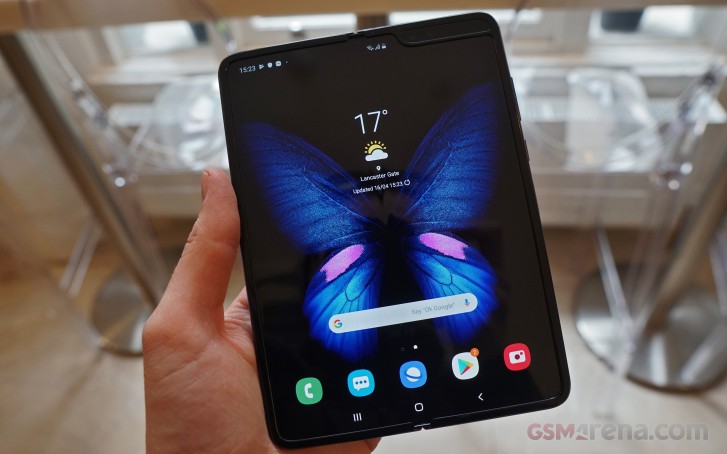 The size of a small tablet, this Galaxy's display gives you the best of both worlds - in the unfolded state it offers a ton of screen area for productivity (or, realistically, media gobbling) but it has all the pocketability benefits of a phone, albeit a tall and chunky one.
That is, the Fold's main display. There's a secondary, smaller, 4.6-inch panel on the front, which Samsung calls a Cover display. This one is to be used for mundane single-handed tasks such as checking the time and making voice calls when the full-blown tablet mode isn't really helping.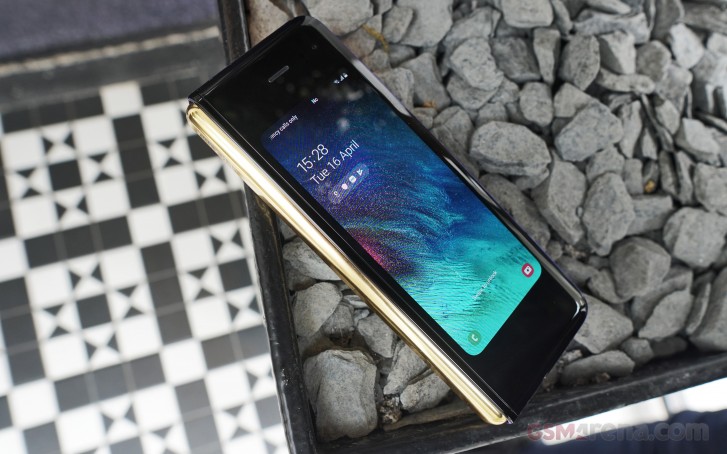 Unorthodox display situation aside, the Galaxy Fold is not unlike the Galaxy S10+. The Snapdragon 855 ticks inside (no Exynos Fold variant, however), there's 12GB of RAM on board and built-in storage is 512GB - so one of the higher end S10+s then.
Much like the S10s, the Fold has many cameras - one extra than that plain S10+, in fact. On the back, it's the same triple-module setup with a main, telephoto and ultra wide camera combo.
On the inside, it's a duo of a 10MP primary selfie-taker and an 8MP sidekick for depth detection. You'd think they're coming straight from the S10+, but here the main lens is slightly dimmer at f/2.2 vs. f/1.9 - the Fold's halves aren't as thick as an S10, so there probably wasn't enough room?
The extra camera we mentioned is on the cover - another 10MP module like the one inside, for taking quick selfies without bothering to unFold.
Samsung Galaxy Fold specs
Body: Foldable, 'innie' - display folds inwards on itself. 160.9x62.9x15.5mm folded, 160.9x117.9x6.9 mm unfolded, 263g both folded and unfolded; Space Silver and Cosmos Black essential colors, Martian Green and Astro Blue with Gold or Dark Silver hinges.
Display: Primary: Foldable 7.3" Dynamic AMOLED Infinity Flex Display, 1536x2152px, 4.2:3 aspect ratio, 362ppi. Secondary (cover): 4.6" Super AMOLED, 720x1680px, 21:9 aspect ratio, 399ppi.
Rear camera: Wide (main): 12MP, 1/2.55" sensor, f/1.5-2.4 aperture, 26mm equiv. focal length (77° FoV), dual pixel PDAF, OIS. Telephoto: 12MP, 1/3.6" sensor, f/2.4 aperture, 52mm equiv. focal length (45° FoV), PDAF, OIS. Ultra-wide: 16MP, f/2.2 aperture, 12mm equiv. focal length (123° FoV), fixed focus.
Front camera: Main: 10MP, f/2.2 aperture, 25mm equiv. focal length (80° FoV), PDAF. Secondary (depth only): 8MP, f/2.2 aperture, 85° FoV, fixed focus lens.
Cover camera: 10MP, f/2.2 aperture, 25mm equiv. focal length (80° FoV), PDAF.
Video recording: Rear: up to 4K 2160p@60fps, EIS up to 2160p@30fps, slow-mo up to 1080p@240fps, super slow-mo 720p@960fps for up to 0.4s (12s playback at normal speed); HDR10+ recording. Front: up to 4K 2160p@30fps with EIS.
OS/Software: Android 9.0 Pie, Samsung One UI.
Chipset: Snapdragon 855 (7nm): octa-core CPU (1x2.8GHz & 3x2.4GHz Kryo Gold & 4x1.7GHz Kryo 485 Silver); Adreno 640 GPU.
Memory: 12GB RAM, 512GB storage, no microSD card slot.
Battery: 4,380mAh total, Li-Ion (sealed), 2-piece, 15W wired charging (Adaptive Fast charging, QuickCharge 2.0 compatible), 15W Fast Wireless Charging 2.0, Wireless PowerShare.
Connectivity: Dual-SIM - one nano, one eSIM (where available); LTE-A, 6-Band carrier aggregation, Cat.18 (1.2Gbps/150Mbps); Wi-Fi a/b/g/n/ac/ax MU-MIMO; GPS, GLONASS, Beidou, Galileo; NFC; Bluetooth 5.0. USB Type-C (v3.1), no 3.5mm jack.
Misc: Capacitive side-mounted fingerprint sensor, doubles as Bixby button; stereo speakers.
As you can see, unique as the Fold may be, it also has the ordinary bits that make up any other phone like radios, speakers, and a battery - perhaps not enough battery, even though there are two pieces of it, one in each half.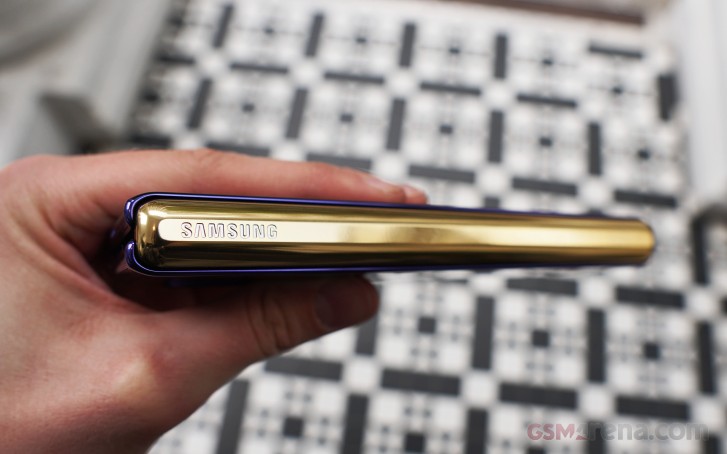 We won't be worrying too much about the battery endurance at this stage and we'll leave these practical matters for the in-depth review. For the time being, let's keep it simple and admire the Fold for its foldability.
Samsung Galaxy Fold hands-on
Science fiction until recently, foldable phones are now very much a reality - and two of them at once, all of a sudden. After fondling the Huawei Mate X a few weeks ago, we now got to spend some time with the Samsung Galaxy Fold, and it's a fun reality we're in.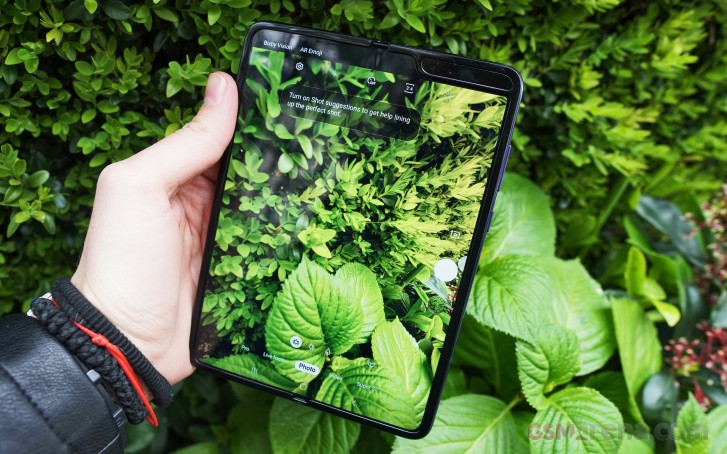 As much alike as they are different, the two foldables currently in existence take different approaches to the very bit that makes them what they are. Samsung's Galaxy Fold we have here is an 'innie' for the lack of a better term - its 7.3-inch display folds in on itself making it reasonably well protected from the outside world, a major concern with the Mate.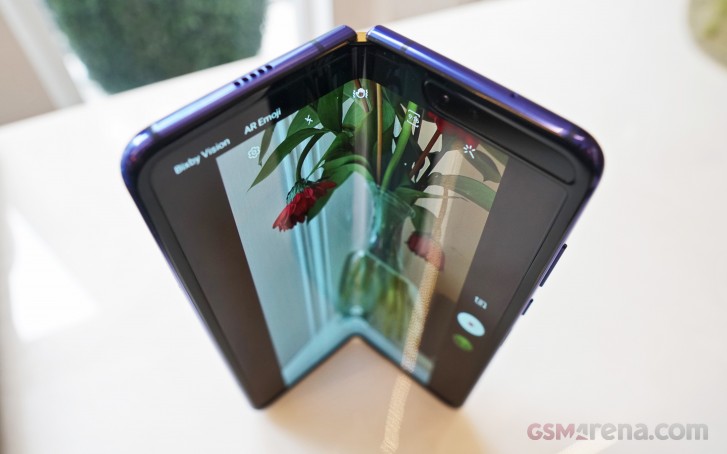 The Fold is kept closed thanks to springs and magnets - there are no last-century solutions like clasps or the like. The magnets are pretty strong too, and the thing closes with a remarkably satisfying 'clack'. So satisfying in fact, that undoubtedly a lot of the 200,000 hinge actuations Samsung promises the Fold will survive will go towards just pointless clacking while fidgeting the hell out of it.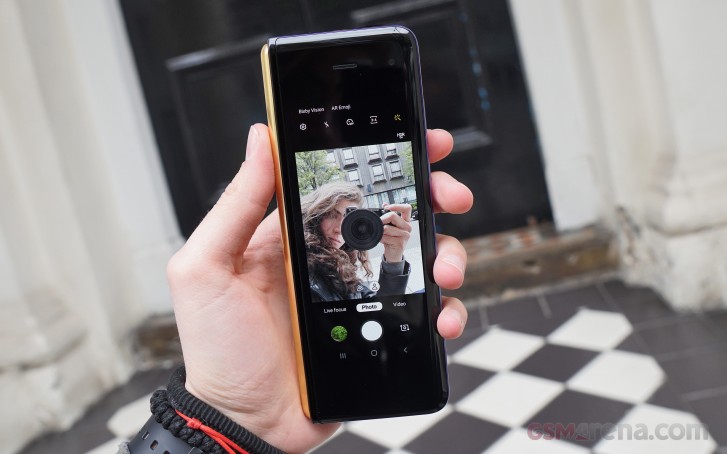 Mind you, there is no risk of it opening on its own - the two halves are held together very securely, to the point of it actually being a two-hand task to open the Fold. It's not a bad thing really, as you'd want to use both hands anyway when in tablet mode, so might as well prepare.
Unfolding the Fold presents you with the whole 7.3 inches of Dynamic AMOLED display goodness. Effectively, the area showing content is in a 4:3 ratio but there is also a status bar up top to account for the additional 100-odd pixels extra height beyond the customary 2,048x1,536px.
The status bar is off to the left side, with a notch that holds the two selfie cameras eating into it in the top right corner. It's one of the biggest notches around, there's no denying that, and it is a bit of an eye sore.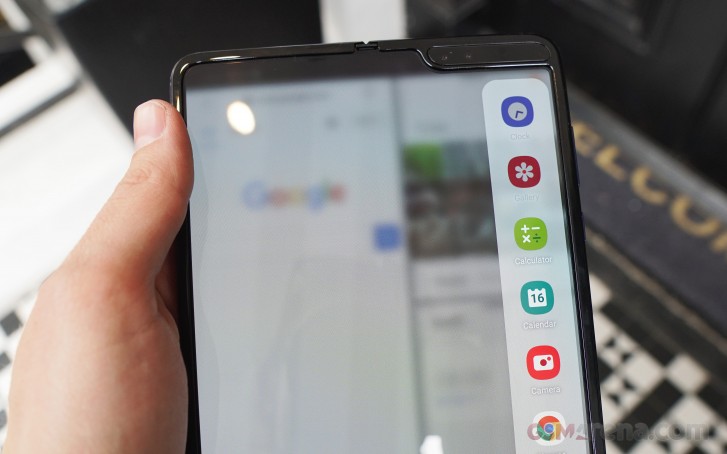 It's not the only eye sore either. There's also the vertical crease in the middle where the display folds in half. It's just there, always. It's particularly visible on lighter backgrounds or on dark ones with light reflecting directly off of it. The crese is sharper and straighter than on the Mate X so on the one hand it looks like it's meant to be there, but it's also somewhat more visible, if any of that makes sense.
It's not ideal, and all the developments Samsung's made in its display technology to get to this point aren't quite enough to make a foldable screen that opens up fully flat. The good thing is your brain is very likely to actually learn to ignore it and look past it. That, of course, depends on just how big of a perfectionist you are about the displays in your life - moderately sane folks will probably be fine with it.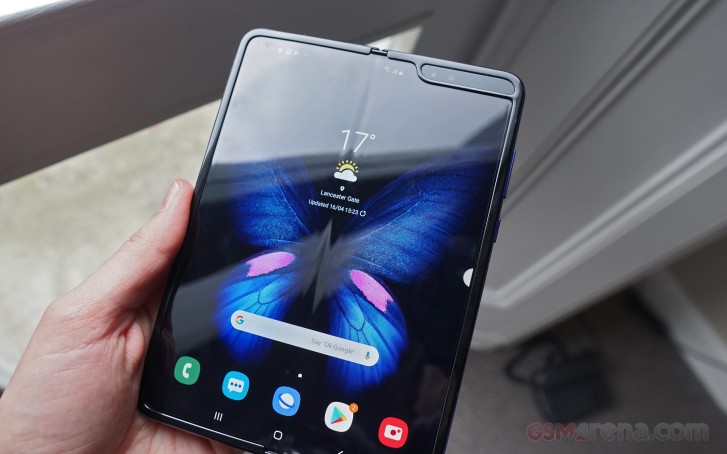 There's another irksome aspect of the Galaxy Fold - when you do fold it, a gap remains between the two pieces, a lot like the Microsoft Surface Book scaled up several times down. The driving forces between the two gaps are obviously different - after all there's no bending display on the Surface. There is one on the Galaxy Fold, however, and you can't just fold in half like a piece of paper - we take it Samsung went for the minimum radius that was technologically feasible.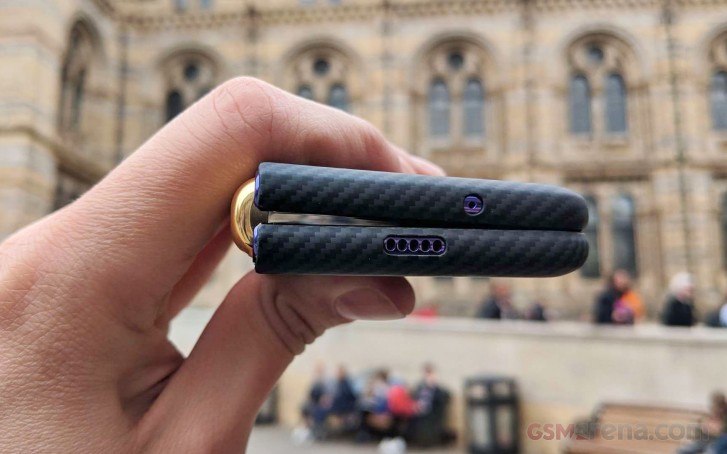 So the gap between the two halves does pose a potential danger of something wedging in there and actually scratching the display which you though was safe on the inside. While freak accidents do happen, we'd say the chances of damaging the innie Fold are markedly slimmer than the outie Mate X.
The folded Fold is a reasonably manageable device, and one you can (semi-)easily stick in a jeans pocket. Of course, it's not compact by any stretch of the imagination - it's as thick as two regular S10+ phones and a couple of mil taller too. It's substantially narrower though, so there's that. At 263g it's not light either, yet it doesn't come off as exceptionally heavy.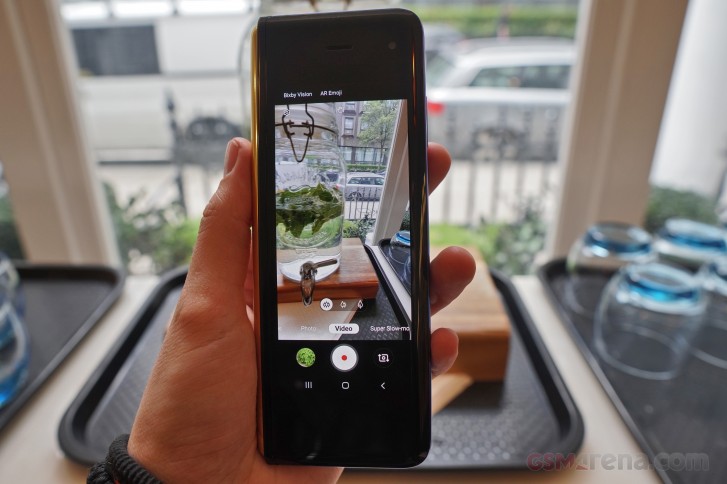 In its folded state, the Galaxy Fold it's well within a single-handed usage territory. The 4.6-inch display is a throwback to simpler times before phablets went so mainstream that we forgot there was a specific name for this category. You can easily pull out the Fold and make a phone call while carrying a bag of groceries in the other hand. Or a quick selfie.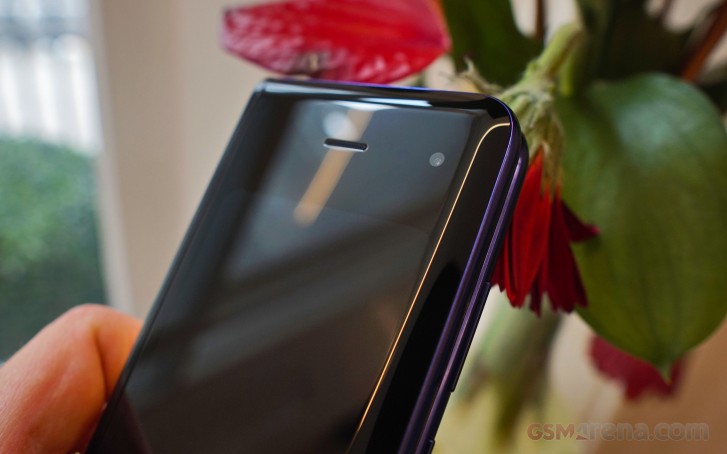 The Fold has slightly different controls from all other Galaxies. There's no under display fingerprint reader on this one like there is on the S10 and S10e. Instead, it's a conventional capacitive sensor on the right (non-hinge) side, similar to the one on the Galaxy S10e. It also doubles as a Bixby button and we're certain that will lead to unintentional Bixby launches and it will require getting used to.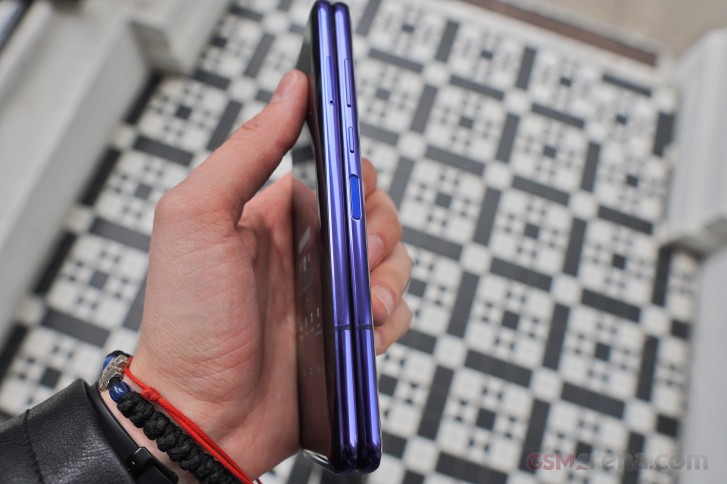 Above that is the power button and further up - a volume rocker. All of these are on the bottom half of the screen (when it's folded), so they remain on the right when you unfold it.
A few things we've taken for granted on the S-series are gone on the Fold, and all things considered, we get where Samsung's coming from. With all the hinge action dust and water protection really isn't something we'd expect from the Fold. Also, space was clearly at a premium and Samsung's omitted non-essential bits - the 512GB of built-in storage do make a microSD slot non-essential and a 3.5mm jack is perhaps at odds with the uber-premium nature of the Fold.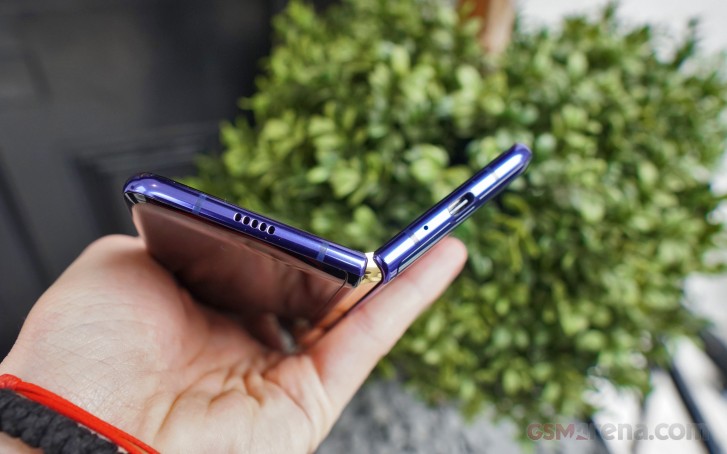 Software
Being an entirely new breed of a device, the Galaxy Fold does need some novel software touches to make for a meaningful user experience. Samsung appears to have done a lot of things right in this respect from the very start.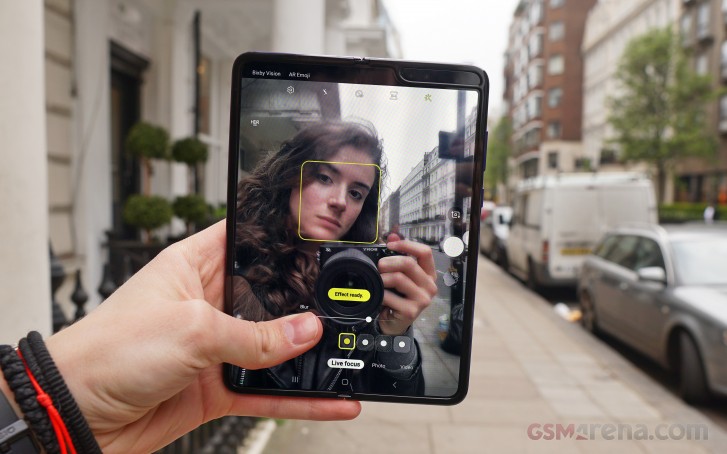 For one, you get entirely separate homescreen layouts for the cover screen and the tablet, complete with different wallpapers. That way you can keep your dialer on the outside and don't have it in the way of more useful apps on the 7.3-inch screen.
Speaking of dialer, if you're on a phone call with the phone folded, and decide to unfold it, it's smart enough to switch to speakerphone - we appreciate Samsung's subtle way of saying 'don't put a tablet to your ear'.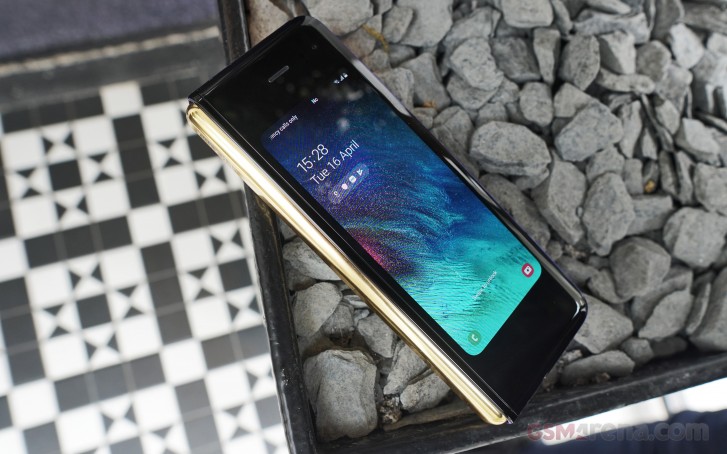 The fold/unfold action makes for a rather smooth transition between the front and rear screens too. Currently, it works on Samsung's native apps and the Google suite, but it'll switch almost instantaneously and it'll even take you to the same position on the page where you had scrolled to on the other display.
In the tablet state you get multi-window multitasking and we're talking multi-window. While in an app, you can swipe in from the right to pull a drawer of compatible apps. You start with a trivial side-by-side split, but you can expand that to one big window with two small ones and then pile several pop-up windows on top. Perhaps a bit overkill if taken to the extreme, but the option is there. Multi window also works in landscape, where you'd even have more useful aspect ratios for your apps.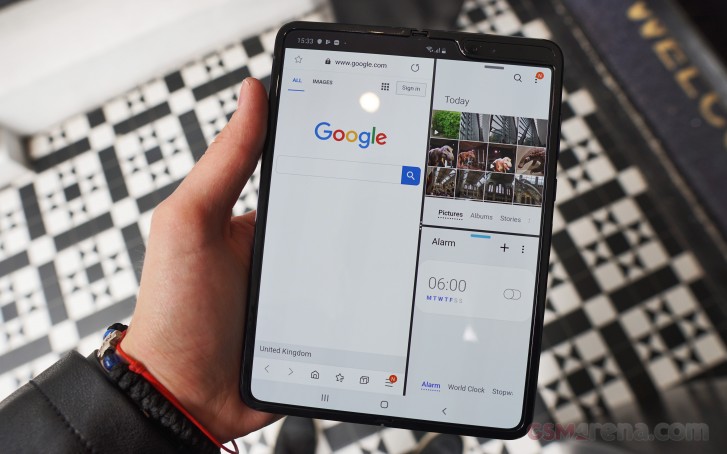 Other neat tricks include a default landscape orientation which prevents you from muffling your speakers - if you launch a landscape game and you're holding the Fold wrong side up, it'll simply display upside down so you'd be prompted to flip it around. To be fair, we've seen it on some Android tablets and there's a built-in provision for it in the OS, but it's nice that Samsung did choose to implement it.
One missed opportunity, however, is that when you're taking a photo with the rear camera in the unfolded state there's no viewfinder displayed on the cover screen and your subject can't see the framing. The Mate X does have a similar feature only there it works in the closed state due to the innie-outie differences. This one in particular could potentially be added later in software if there's people vocal enough wanting it.
Camera
The cameras of the Galaxy Fold are almost entirely identical to those on the S10+ save for the slightly dimmer lenses on the two 10MP selfie shooters. Both the rear camera and the inside selfie shooter benefit from the larger viewfinder that the 7.3-inch display provides, though the flipside of this is that you're getting dangerously close to the ultimate faux pas of taking photos with an actual tablet. If you need to be more discreet, you can always take pictures with the same rear cameras in the phone's folded state, of course, albeit framing on a smaller 4.6-inch display.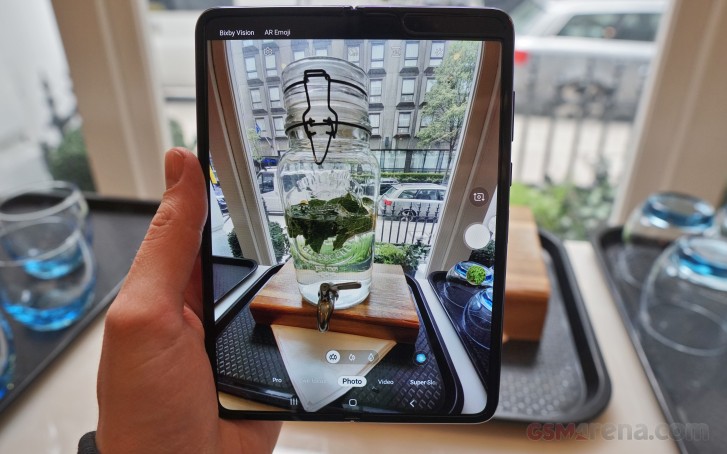 While we're familiar with the image quality we can expect from this hardware, we still took a handful of camera samples because it's simply a whole different experience taking pictures with the Galaxy fold.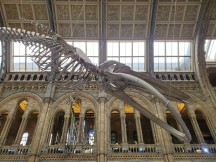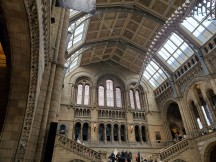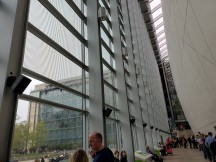 Galaxy Fold main camera samples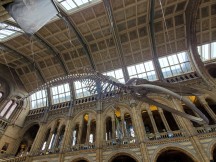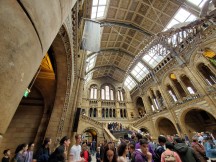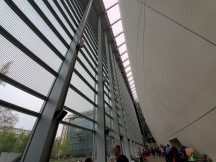 Galaxy Fold ultra wide camera samples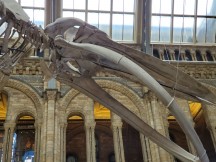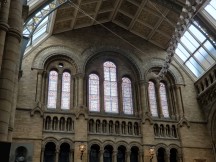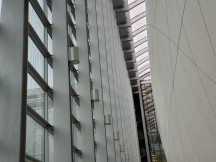 Galaxy Fold telephoto camera samples
Wrap up
There's certainly a dumb pun that involves folding and wrapping waiting for us somewhere in there, but let's spare ourselves the embarrassment. Let's just say that we really enjoyed the time we spent with the Galaxy Fold and it was a nice glimpse into the future of smartphones - a future you can experience now (or in a couple of weeks, same thing).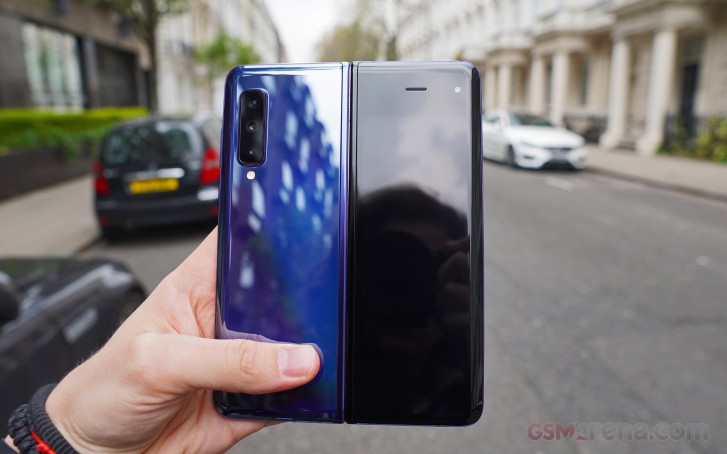 We'll be sure to thoroughly put it to the test once it arrives at the office - the Fold needs to endure the usual stuff to which we subject the plain flat phones. And then there have got to be more usability benefits to the 2-in-1 form factor that we've inevitably missed in the brief few hours we spent with the Galaxy Fold. Those few hours were all it took to confidently say we each want one for the sheer coolness, though we can see the voice of reason having no hard time prevailing.